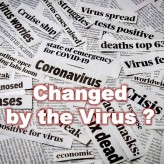 "Unanticipated, Unprecendented, Unsettling"
These are just a few of the adjectives people use to describe the times in which we live. There is hardly a way in which our lives have not been touched by the virus:
from the way we buy groceries, to the way we do school, to the way we worship.
No doubt, you have reached out to God many times in prayer for protection for your family and the community from this spreading virus. At the same time, you may feel your connection to God slipping due to your distance from worship. So I have a question for you.
How has the virus changed how you relate to God?
Please share your comments below.
Read More