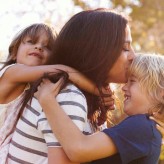 Let your family meet ours!
Are you struggling at home? Looking for some hope, longing for some answers? There are few things more helpful than a church family to help  you navigate your own family. People who love and care for you can stand with you, coach you, pray for you. No one person, no one parent should carry the load. Every Sunday you can find classes for parents and for your kids. And though we aren't perfect, we can help one another make it on the journey of life.
Our main worship time is 10:30am, but the family hour is 9:30am, when we split into classes targeting the needs of each member of your family.
9:30am Sundays
Preschool class
Girls Class
Boys Class
Adult Class
10:30am Sundays
We also offer Children's church for little ones, so parents can relax and listen to God speak to them.