Some of the sweetest times of fellowship and spiritual growth happen in our small groups. There's a group for both ladies and men. Presently, meetings alternate  every other Weds. at 7pm. Men meet the 1st and 3rd Weds. of each month and ladies meet the 2nd and 4th Weds. (These are home-based studies.)
Our Fall sessions are getting underway soon. Books are available for each group for personal study.
Ladies are studying "Becoming a Woman of Strength" by Cynthia Heald.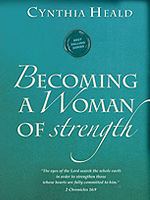 Beginning, August 30,
Men will be studying "Hope: Your Heart's Deepest Longings" by Jack Kuhatschek.